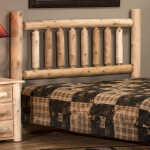 Cedar Log DOUBLE Headboard Only
Calculate shipping price
Please fill in the fields below with the shipping destination details in order to calculate the shipping cost.
Description
Additional information
Reviews (3)
Description
Our Cedar Log rustic Double Headboard has a natural look while being both solid and comfortable.  Our Log Headboard is made from 4 1/2″ to 5 1/2″ diameter cedar logs for extra sturdy and safe construction.  Each headboard is unique with its own knots and cracks as no two trees grow the same.  The logs come standard as Hand-Peeled, relatively smooth except around the knots which are a little rough to the touch. Each of these log headboards are individually handcrafted, making it one-of-a-kind piece to your rustic log furniture set.
Solid Wood Construction.
Made from by-products from the log home industry.
Made in the USA
Customer reviews
Rated 4.66666666667 out of 5 stars
3 reviews